Today we had another great day at camp! As the Friday night show rapidly approaches, the children are feverishly memorizing lyrics.  Theater games is always one of the camper's  favorite parts of camp, and today was no exception.  They learned to work together while having lots of fun playing Airplane.  Then they were off to whole group time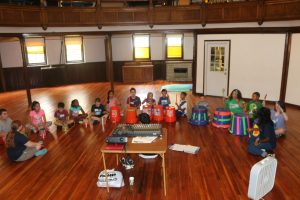 where they brought out their inner actors and practiced reading scripts in groups.  For the first time, the kids got to work on their bucket band piece with buckets!  Their excitement at finally being able to play the buckets was contagious, and the rest of the day was just as energetic and fun as the morning had been.  It may seem like our camp is all fun and games, but the kids are learning more about Christ, the Bible, and God's love with every game and silly face!  We can't wait for tomorrow!
Delta Force Out!—————–SWEEEEP!
Camper quote of the day
Miss Jen: When I was little we had to go to the library to get internet.
Camper: How did you live?!?!