Christ-Centered and High-Energy Fun!
Designed for kids who are entering grades two through eight, ALL ABOUT KIDS PRODUCTIONS is a high-energy, kid-oriented performing arts day camp. Music, acting, stage movement and dance are combined with Bible study, hands-on instruction, plenty of laughter, and just the right amount of hard work to create an awesome week of challenge and growth. Kids learn Biblical principles for life's choices as they enjoy a great week in the performing arts!
Production Camp Schedule
Sunday: 3:00 – 5:00 PM; Sign-in begins at 2:30 PM
Monday – Thursday: 9:00 AM – 3:00 PM
Friday: 9:00 AM – 2:00 PM; The Friday Night Show – 7:00 PM
Music
From up tempo energetic music to strong melodic ballads, music is the oil that keeps this production camp humming. The solid lyrics of contemporary Christian songs help build strong foundations for truth.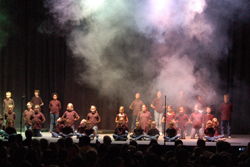 Theater Games
Theater games are building blocks of fun. They teach performance skills, fuel friendships, and help get creative juices flowing. Kids have a blast!
Acting, Stage Movement, and Dance
What kid hasn't reenacted some funny moment in slow motion, or used exaggerated movements to liven up a story; or started to dance when a favorite song is played — when no one is looking, of course. It's as natural as it is fun! Acting, choreographed movement, and dance are great teaching tools as well.
Bible Study
Creative and interactive Bible studies prepared on a kid's level lay the foundations and help kids understand the Biblical truths they are exploring throughout the week.