Our first full day of camp went very smoothly. With the blazing hot sun outside, our kiddos were having fun in air conditioned rooms, learning the chorus to all the songs and engaging in exciting theater games.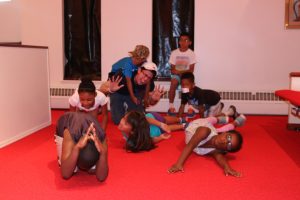 Just imagine you're on a boat, one crew member doesn't know how to swim so they begin to pray. In the midst of the turbulent sea, your crew has managed to catch two beached whales—-oh no did you also bring a tiger on board? Just one of the many scenes Mr. Danny had fun bringing to life with his group of imaginative campers.
While some of us surfed, others sought out buried treasures and swam under sea with sharks and dolphins.
After a delicious lunch, breaking off into groups was a refreshing change from Sunday. We were able to focus on a core group of kids and teach them their performance tracks. The end of the day was wrapped up nicely with a wonderful turn out for solo auditions!
We just want to cheer for each and every kid who walked up to the stage today! Your confidence and smiles brought  joy to our evening.
We have a lot to do in the next couple of days, but I'm casting my vote early that we'll have a whale of a time!
Delta force out! ——–SWEEEEEEEEP!
Camper quote of the day:
Miss Hannah: What color is your splat blaster?
Camper: Black like my heart